Christos 2023 Fashion Show
Fashion show season!
We held our own fashion show at the Empress Banquet in Addison, where we were able to present our brand-new collection for 2023.  Owner and creative director Christos Taltsidis is renowned for his commitment to sustainability and innovative designs. These three looks are our current top picks!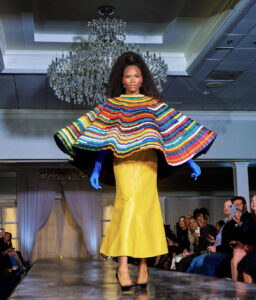 The Colors of the World Poncho.
The Colors of the World Poncho is where diversity and individuality are celebrated. The vibrant hues used in the design symbolize the different cultures, perspectives, and experiences that coexist harmoniously, creating a beautiful tapestry of humanity.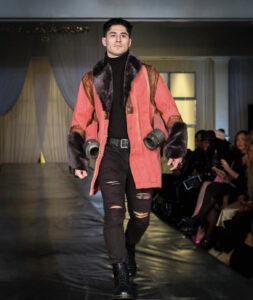 The Upcycled Chicago Fire Jacket.
Dedicated to our firefighters. The vibrant colors and intricate weaving of the fire hoses create a visually striking tribute. Capturing the resilience and heroism of these courageous individuals. The use of vintage materials add a sense of history and nostalgia, further emphasizing the timeless significance of their selfless act.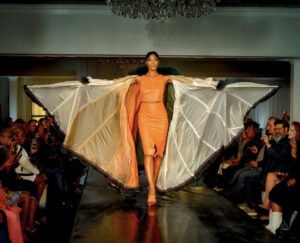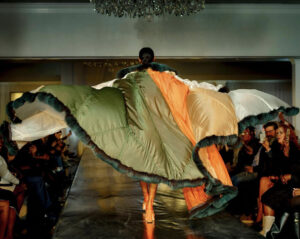 Last but not least, The Upcycled Parachute Coat. 
The garment is a symbol of celebration and remembrance, capturing the essence of Pavlina's vibrant personality. Through its unique design, it pays homage to her love for thrilling experiences and encourages others to embrace life's adventures. By transforming the synthetic materials of a parachute, it not only creates a stunning showpiece but also promotes sustainability by repurposing and giving a new life to discarded materials. 
Ultimately, we want to thank everyone who was able to attend the Christos 2023 Fashion Show. We hope you enjoyed Christos' New Collection as much as we did. Visit us on Facebook, Instagram, or YouTube to view our entire fashion show.
The entire 2023 Christos Collection will be available on our website under "Christos Original Designs".